Wye Valley Apiaries
The True Taste awards have recognised Wye Valley Apiaries Honey to be among the best foods in Wales.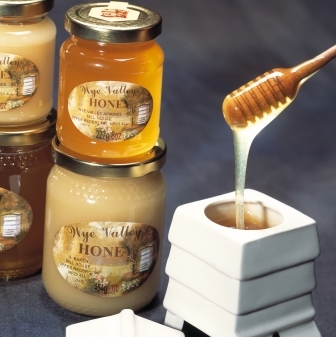 Our Bees are seasonally sited along the Welsh border following the River Wye almost a hundred miles from it's source on the Heather Moors above the Elan Valley to the Sea at Chepstow. The varied environments range from broadleaf woodland in the south through huge orchards and fields of white clover to the beautifull purple heather moors in the north. This varied forage produces honey ranging from almost clear to extremely dark with varying flavours and textures.
We harvest our honey throughout the season and seperate the different types for bottling through out the year. The volume and type varies and can be as much as 20 tons. We complement our own honey with with varieties of other honey that are all chosen for their provenance and quality.
Available from: all year